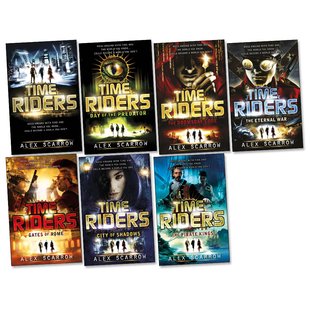 Look inside
TimeRiders Pack
Fast and furious thrills from a series that has taken the book world by storm. Mess around with time and the world you know could become a world you don't!
Liam O'Connor should have died at sea in 1912. Maddy Carter should have died on a plane in 2010. Sal Vikram should have died in a fire in 2029. But instead, they were saved. An instant before death, someone said "Take my hand…" Snatched from death by a mysterious agency that exists to fix broken history, the trio become TimeRiders: travelling through time to stop others from meddling with the past. Launched into death-defying adventures, they find themselves running from dinosaurs, battling ancient curses and facing ruthless villains including Jack the Ripper. Will they be able to keep the future safe? And when they're forced to run, can they find a place to hide?
"A thriller full of spectacular effects." Guardian
'Insanely exciting, nail-biting stuff.' Independent on Sunday
Fun Stuff
Activities
Download our free TimeRiders wallpaper.

Download super-cool free TimeRiders wallpaper.
Who's reading this?