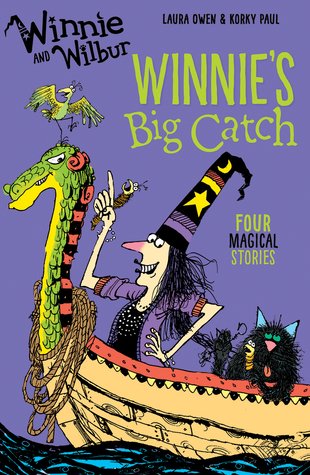 Look inside
Winnie and Wilbur: Winnie's Big Catch
Crash! Bang! Splash! Winnie conjures up more magical mayhem in a book of big fun for little readers. Open up for four fantastic stories which crackle and pop with laughter! When Winnie goes into business with her special broomstick-friendly padded pants, will she come down to earth with a bump? Will disaster strike when she flies into action in a football match against the Boggle-End Rovers? And when Winnie and Wilbur go fishing with Captain Stinky Stan, what mighty surprise will they reel in?
Four easy-read stories from this bestselling series
Perfect for growing fans of Winnie's picture books
Exuberant black-and-white artwork by Korky Paul
Great for solo reading or as shared bedtime stories
Fun Stuff
Activities
Here's a funny picture of Winnie the Witch for you to colour in.
Who's reading this?