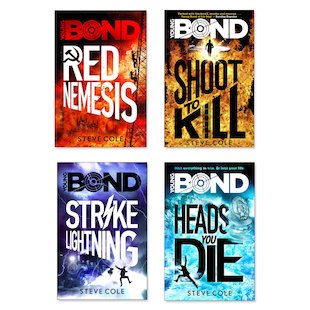 Look inside
Young Bond Pack x 4
Who said he's the boy who becomes a legend? He's already a legend – right here, right now! As Steve Cole takes the reins, James comes of age and ramps the thrills up to the max! Bond's been kicked out of Eton. Boo. But let's face it: he's never been a sitting-in-class kind of guy. Now it's time for Bond to get a different kind of education out in the big bad world. (Think murder, mayhem and corruption.) Forget school exams. Bring on the new exams: tests of survival, skill and sheer nerve. How will James score? Will he cling on to die another day?
The blistering new Young Bond series from Steve Cole
Follows on from the bestselling books by Charlie Higson
Action, intrigue, danger, suspense – no-holds-barred thrills!
Steve has written several bestselling Doctor Who books
"The future of Young Bond is in good hands. Full marks to Steve Cole." Bookzone4boys
#summer-18
#sum-18