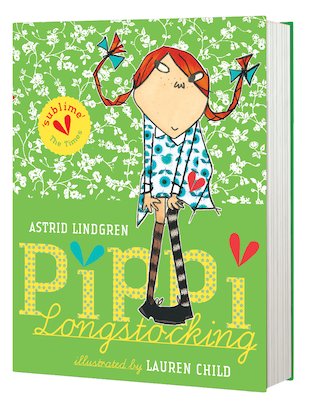 Look inside
Pippi Longstocking: Gift Edition
Pippi Longstocking is nine years old. She lives all by herself with a horse, a monkey, and a big suitcase full of gold coins. The grown-ups in the village try to make Pippi behave in ways that they think a little girl should, but Pippi has other ideas! She would much rather spend her days having wild adventures, or entertaining everyone she meets with her outrageous stories. As strong as an ox and as brave as a tiger, flame-haired Pippi thinks nothing of wrestling a circus strongman, dancing a polka with burglars, or tugging a bull's tail! In this wonderful gift edition of a true children's classic, illustrator Lauren Child brings fearless, feisty Pippi to brand new life in her own inimitable style.
"Lauren Child's take on the classic Pippi Longstocking is gorgeous." The Bookseller
"If ever there was an illustrator born to understand the psyche and well-loved quirkiness of Pippi Longstocking and infuse it with a 21st-century edge, then Child is that artist." Junior magazine
"Sublime." Amanda Craig, The Times
Who's reading this?
We want to read this book