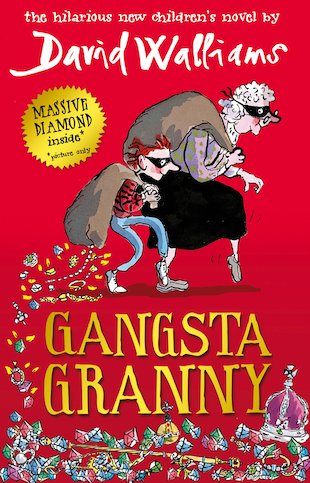 Look inside
Gangsta Granny
Ben is bored beyond belief when he is forced to stay at Granny's house. She's the dullest gran on earth: all she does is play Scrabble and eat stinky cabbage soup. But there are two things Ben doesn't know about his grandma. (1) She was once an international jewel thief. (2) All her life, she has been plotting to steal the crown jewels – and now she needs Ben's help! His life is about to shoot from deathly dull to dangerously crazy as he joins his Gangsta Granny on the run! Funnyman and swimming champ David Walliams returns on top form in his fourth topsy-turvy novel. Expect all your expectations to be turned inside out in this wickedly funny story of unlikely heroes and even more unlikely villains!
"Anyone who thinks that all grannies do is wear mauve, play Scrabble and smell of cabbage will laugh out loud at David Walliams's new book." The Telegraph Magazine
"This is possibly David's funniest book ever." Heat
"Confirms his reputation as the Roald Dahl of his generation." Woman's Way Magazine
Fun Stuff
Activities
Find all of the Gangsta Granny words in this tricky puzzle.
Who's reading this?
We want to read this book