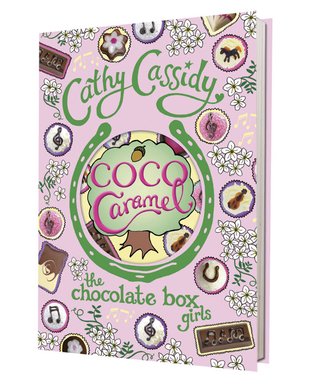 Look inside
The Chocolate Box Girls: Coco Caramel
The gorgeous latest story in Cathy Cassidy's bestselling Chocolate Box Girls series!
Coco. Blue eyes, fair hair and freckles. A tomboy who loves animals and wants to change the world. It's the turn of headstrong Coco Tanberry to take the stage in this book – and what is Coco crazy about? Horses! So when Caramel – her favourite pony at the local stables – is sold, it's only right that Coco secretly scopes out the new owner. When it becomes obvious that they are bad news, can she hatch a plan to rescue her beloved Caramel? With big sister Honey going off at the deep end and Summer still getting better from her eating disorder, there's no one at Tanglewood to help Coco out. This time, Coco is on her own…
#reading-lists-9
Fun Stuff
Activities
Print off these FAB invites for your Summer Sleepover party and hand them out to your friends.

Download the Cathy Cassidy Summer Sleepover pack! It's filled with ideas for things to make and do at your sleepover, including strawberry muffins, personal pizzas, makeover ideas, fashion and talent show games, friendship quizzes, popcorn necklaces and much, much more!!