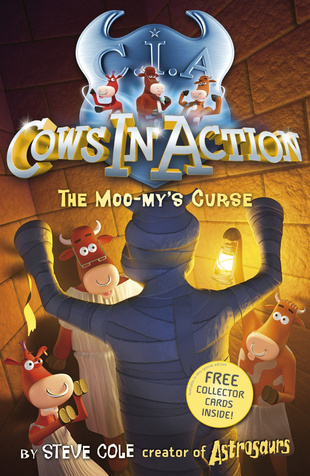 Look inside
Cows in Action: The Moo-My's Curse
Professor McMoo is a very clever cow – so clever that he's built a time machine. He's also an agent of the CIA – a crack team of cow commandos! Now he's stampeding off on a new mission to Ancient Egypt. The CIA squad suspect that a time-travelling ter-moo-nator is impersonating the pharaoh Tutankhamen. They must find a way to stop him! But as they race through ancient pyramids, battling terrifying mummies, are Professor McMoo and his brave beefy sidekicks running out of time?
Fun Stuff
Activities
Make a delicious cow-pat chocolate cake.

What's going on in the Cows In Action farmyard now?! Here's a scene for you to colour in.

Go undercover as one of the Cows In Action team with this a-moo-sing mask for you to colour in!

Throw your own Cows in Action party.
Who's reading this?