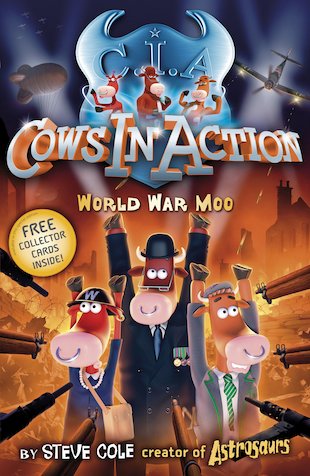 Look inside
Cows in Action: World War Moo
Professor McMoo is a very clever cow – so clever that he has built himself a time machine from discarded farming machinery. He and his two cow friends, Pat and Bo Vine, are star agents of the CIA – Cows in Action, a crack team of cow commandos who travel through time to repair mistakes in history!
Now the CIA are going to war – back to World War Two! Their time-travelling Time Shed has been blown up in the Blitz, so Professor McMoo must parachute behind enemy lines in search of a captured scientist to repair it. But what with ground war, air battles and lots of hideous enemies to defeat, can the agents save history from disaster?
Fun Stuff
Activities
Make a delicious cow-pat chocolate cake.

What's going on in the Cows In Action farmyard now?! Here's a scene for you to colour in.

Go undercover as one of the Cows In Action team with this a-moo-sing mask for you to colour in!

Throw your own Cows in Action party.
Who's reading this?