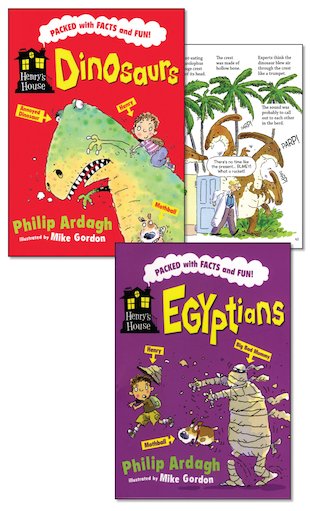 Look inside
Henry's House Pair
There's a diplodocus in the basement and a pharaoh in the living room! Step inside Henry's House and see what's going on! Meet Henry, an ordinary boy who lives in an extraordinary house – a house which has all kinds of things to show him! With weird and wonderful objects popping up all over the place, you'd better be ready for shocks, bumps, crashes and surprises! This riotous romp through learning is written by chuckle-master Philip Ardagh, and is packed with jokes, quizzes and side-splitting laughter. Picking your favourite topics and going into all the funny details, it's fact-packed and fun-packed. So get packed – and head for Henry's house!
Fun Stuff
Activities
Meet Henry and his extraordinary house! A fun poster to download.

Download this cool Henry's House wallpaper!
Who's reading this?