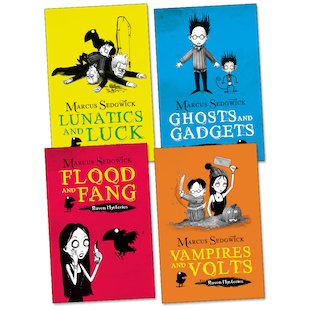 Look inside
Raven Mysteries Pack
Weird and wonderful Gothic mysteries told from a raven's-eye view! Spooky things are afoot at Otherhand Castle, terrorized by vampires, ghouls and a dark beast with a long tail! Can Edgar, the faithful guardian raven, solve these deadly mysteries… and stop everyone from having their throats torn out? The peculiar Otherhand family consists of crazy inventor Lord Valevine, his spooky wife Minty, ten-year-old pest Cudweed, and Solstice – the black-haired, poetry-writing daughter. No one pays much attention to Edgar. But when kitchen-maids start to vanish, vampires visit and ghosts in the Lost South Wing scare the household staff to death, it's just as well that the hapless, hopeless Otherhands have this secret weapon in their midst!
"Told from the bird's eye view of a resident raven, this is a deliciously topsy-turvy comedy full of unusual details." Julia Eccleshare, Lovereading4kids.com
"As funny and twisted as the members of the Otherhand family themselves… You'll laugh when you read this book – a lot." Trappedbymonsters.com
"Told with extraordinary wit and razor sharp repartee; Edgar is a comical genius." Thetruthaboutbooks.com
Fun Stuff
Activities
Can you invent your own spooky cake recipes to help Minty impress her friends?

Help Edgar make a wanted poster for the monster that lurks in Castle Otherhand's cellars.
Who's reading this?