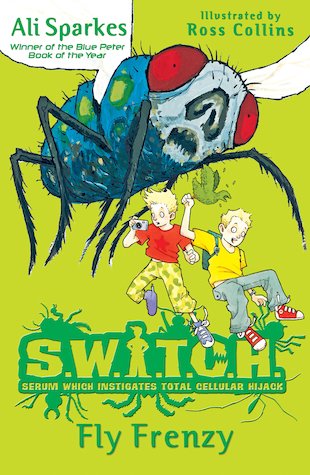 Look inside
SWITCH: Fly Frenzy
Something precious has been pinched from Josh and Danny's garden. They need a disguise to catch the thief – and Petty Potts, the mad scientist who lives next door, is all too happy to help! With a squirt of her freaky SWITCH spray, the boys find themselves with wings, 360° vision, a talent for walking on the ceiling, and a strange attraction to dog poo! But flying into enemy territory is a dangerous business. It's definitely snot funny when they encounter a hairy nostril, for a start. But that's nothing compared to a sticky spider web, or the power of the dreaded swat! Will the boys make a flying finish and save the day? Or end up floating in somebody's soup?
Fun Stuff
Activities
Can you spot ten differences in this puzzle?

Download some bugtastic wallpaper!

Can you find all the hidden words?
Who's reading this?