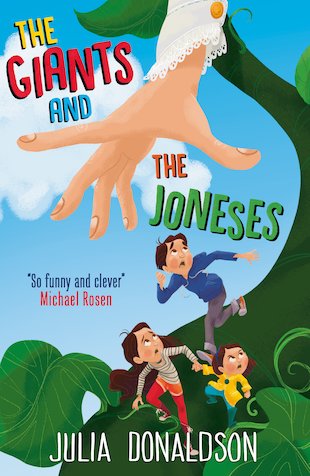 Look inside
The Giants and the Joneses
Fact: giants really DO live up beanstalks. So what if one climbed down, looking for YOU? You'll find giant laughs on every page of this funny fairy tale by the bestselling author of The Gruffalo! So what if most humans don't believe in giants? Most giants don't believe in humans either! Except for giant girl Jumbeelia, who has always loved the tale of the tiny iggly plop who climbed up the bimblestonk. Now Jumbelia has grown her own bimblestonk, and she's climbing down it. Which means the Jones family are about to end up in BIG trouble! When Colette, Stephen and Poppy are snatched off to giant land, how will they get back to their own world?
A fabulous full-length fairy tale by a superstar author
Julia Donaldson's best-loved books include The Gruffalo
She served as Children's Laureate from 2011-2013
Will delight fans of Roald Dahl and David Walliams
#adventure-sc17
Who's reading this?
We want to read this book