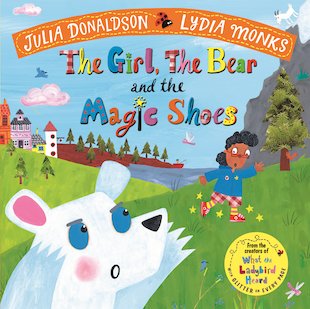 Look inside
The Girl, the Bear and the Magic Shoes
Storytime magic by a classic team we love! When Josephine leaves the shoe shop after buying some new running shoes, she hears a weird sound behind her. Click-click. Click-click. Yikes! A bear with a backpack is following her! How will she run away fast enough? The bear is getting closer all the time, and there are all sorts of things in her way. She has to crunch up a mountain, slide over snow and squelch through a soggy bog. It's lucky that her new shoes have a magical secret! But WHY is the bear chasing her? What does it want?
By the bestselling creators of What the Ladybird Heard
Witty and magical fun with a lovely surprise at the end
Beautifully bright illustrations and glitter on every page
Julia Donaldson is the celebrated author of The Gruffalo
"A charming adventure full of magic and friendship." Love Reading
Who's reading this?
We want to read this book