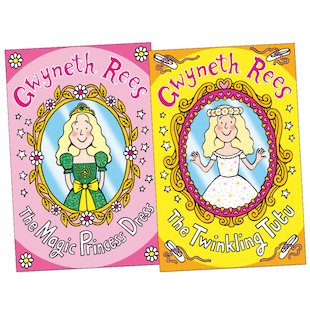 Look inside
The Magic Dress Shop Pair
What could be better than a magic dress shop, where each gorgeous outfit takes you on an adventure through time and imagination? A shop with hundreds of dresses in every colour of the rainbow, sewn with magic thread, all ready to whisk you away? Ava is on the hunt for her missing cat when she stumbles into Marietta's dressing-up shop. One minute, she's trying on a perfectly-fitting green and gold dress. The next, she finds herself at Cinderella's wedding in Fairytale Land! And even more enchantment is in store when she slips into a twinking tutu which transports her to a ballet show in Victorian times….
From the bestselling Gwyneth Rees, author of Fairy Dust, comes this irresistible series about the power of wishes and imagination.
Fun Stuff
Activities
Here's a magical fairy picture to colour in. Make it as pink and sparkly as you can!
Who's reading this?