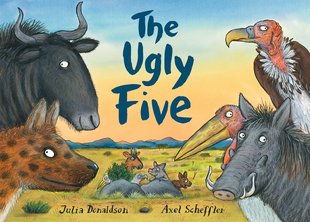 Look inside
The Ugly Five
Who needs cute critters? It's time to celebrate ugly animals! The Ugly Five are proud of how hideous they are. There's the bristly wildebeest, the yucky bald vulture, the spotty hyena and the gangly marabou stork. Not to mention the warthog, who is covered in – you guessed it – warts! As they swagger across the African savannah, showing off their glorious yuckiness, their cheeky rhymes will make you laugh out loud. Don't be disgusted. They might be gangly, warty, bumpy, bristly, spotty and stinky – but they're perfect just the way they are!
Brand new from no. 1 bestselling team Julia and Axel
A heartwarming comic rhyme that is a joy to read aloud
Celebrates difference and shows that we all deserve love
Beautiful artwork brings the savannah to glorious life
#julia-and-axel-favourites
#gift-guide-mini-animals
#gift-guide-mini-bestsellers
#our-christmas-favourites
#anti-bully-picturebooks-related
#anti-bully-picturebooks-2018
#anti-bully-allpicturebooks
Who's reading this?
We want to read this book