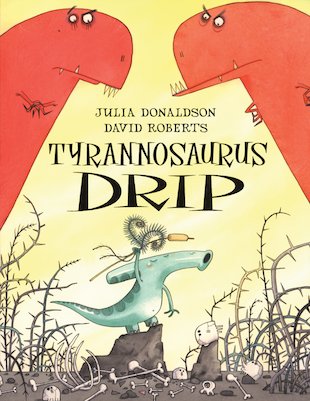 Look inside
Tyrannosaurus Drip
Who ever heard of a vegetarian T.Rex? Or a T.Rex who isn't big or scary? When the cute little dino in this story hatches from his egg, it's obvious that something is wrong. Why isn't he huge and nasty like the others? Why does he munch on water-weed? Why is he green and not red? He's so out of place that his grisly big sisters call him Tyrannosaurus Drip. But don't be fooled. This little dinosaur may look small and weedy, but he turns out to be very brave indeed!
A classic rhyme by picture book icon Julia Donaldson
Julia's bestsellers include The Gruffalo and Stick Man
A witty story of saving the day and being the odd one out
Flamboyant artwork full of deliciously wicked dinosaurs
"Rollicks along very engrossingly." Independent
"Terrific and full of fun." Telegraph
#readandrespond-0816
#top100-092016
#top100-ages5to7
#top-100-201718-primary
#top-100-201718-57
#top100age5to7
#top100-all
#top100-all1718
#top100age3to7
#anti-bully-picturebooks-bullying
#anti-bully-picturebooks-2018
#anti-bully-allpicturebooks
#sum-18-ie
Fun Stuff
Activities
Colour in this picture of T-Drip with his gruesome parents!

Play the Tyrannosaurus Drip Hunt-the-Egg-Game! You will need glue, card, scissors and dice.