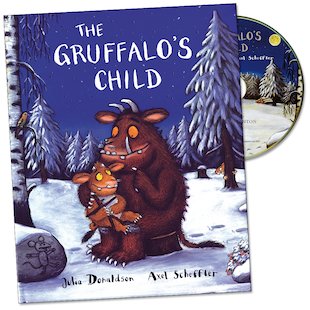 Look inside
The Gruffalo's Child: Book and CD
The Gruffalo said that no gruffalo should / Ever set foot in the deep dark wood. "Why not? Why not?" "Because if you do / The Big Bad Mouse will be after you."
One wild winter's night, the brave little Gruffalo's child tiptoes out in search of the Big Bad Mouse. He doesn't really exist – does he? But when a little mouse appears, she gets an enormous surprise… Shining with imaginative power, this best-loved rhyming story is packed with cute pictures of a snaggle-toothed baby Gruffalo who will melt everybody's heart! Now you can enjoy the experience over and over again with the original classic book to read, plus a story CD to listen along to.
"A comic masterpiece." Independent on Sunday
Fun Stuff
Activities
Can you draw a picture of the Gruffalo?

He has terrible teeth and terrible claws

Can you colour in this picture of the Gruffalo opening his birthday cards?

Can you find all the party words in this bumper birthday wordsearch?

Click on the animals to join in with the Gruffalo song. Make sure your sound is switched on!

Make your party the best monster mash ever!

Invite your friends to a Gruffalo party!

Merry Christmas! Here's your very own Gruffalo's Child christmas card to colour.

Follow these simple instructions for the best looking Christmas tree around!
Who's reading this?